A text by Jean Touitou

INTRODUCTION

To finance the early days of A.P.C. – and considering that I distrusted bankers but also had no personal fortune – I worked as a "ghost designer" for several brands. One was based in London, another in Toronto and a third in Paris. This last brand had major experience in denim. One day, I asked the boss of this brand for some advice about making a great pair of blue jeans and I was given a bolt of Japanese denim, which was not very wide.
I received just one indication: connect the two exterior edges with the red trim (two sketches are included to explain these seemingly mysterious yet actually very simple things). So, I sketched my design, had a pattern made and then cut and produced our first pair of jeans in the workshop of the neighborhood seamstress, who was thrilled to participate in such an adventure. However, I didn't know – and therefore didn't follow – a certain number of rules and codes that obsess denimheads, afficionados, nerds, specialists and all guardians of the temple. For example, the rule about cutting the waistband on the bias: since I wasn't aware of this, I cut it straight along the grain and it's been like that ever since.

THE POSITIONING OF THE PATTERN ON THE FABRIC

This is a simple matter of construction: connecting the two edges of fabric on the outer side of the legs keeps the jean legs straight (and prevents them from twisting). I know it's a little abstract when it's not your job, so here are some additional explanations in the form of sketches.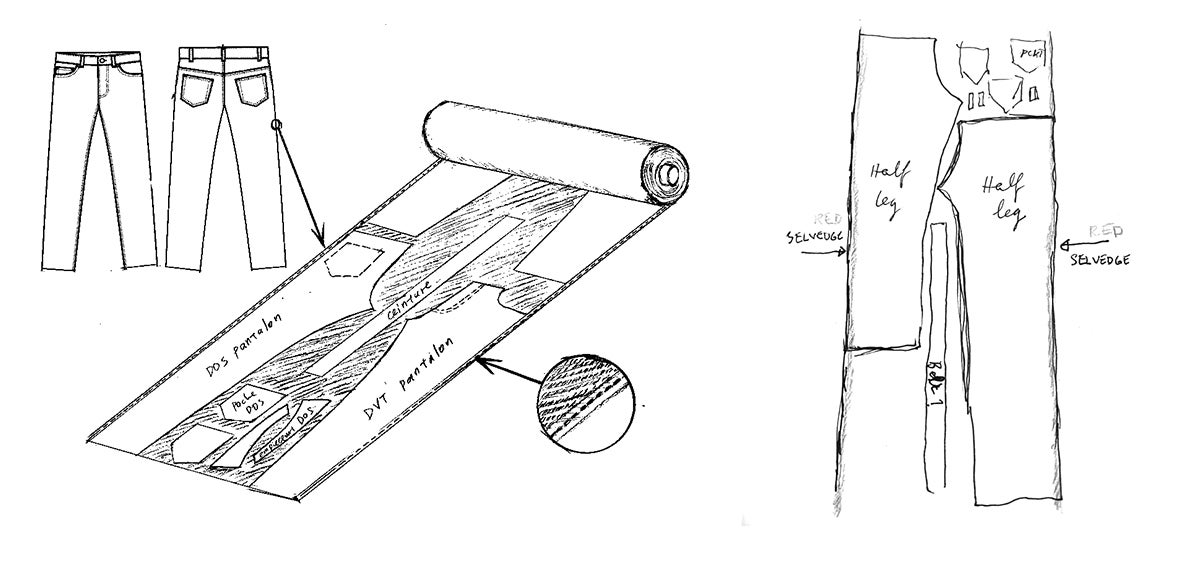 Left: Sketch by Shinya Hirota from the A.P.C. studio
Right: Sketch by Jean Touitou

NO-SELVAGE (US: selvage, UK: selvedge)

Defining jeans as "selvage" is as ridiculous as describing water as wet. In French, "selvage" means the edge, yet all fabric has two edges. Without selvage/edges, a fabric would not be usable, as it would become unwoven. But let's be good sports: this term is now commonplace and I'm not going to revolt against a term that is rather practical. When it comes down to it, it's easier to use the word "selvage" than to say: "jeans designed from a fabric with a red trim whose outer sides were cut along the edges.
You have to be able to accept approximations. For example, what people commonly call RnB in popular music has little to do with rhythm and even less with blues.

THE FABRICS

When I received this famous first bolt of fabric with its narrow width, I tried to find out where it came from. I was given the name of a weaver based somewhere near Hiroshima. I contacted him and, because he already knew my work thanks to the success of our first shop in Tokyo, he offered me a different version of this fabric, which would be exclusive to A.P.C. I accepted his offer. This fabric has a secret that only he and I know and that neither of us have ever shared with anyone else. More than 35 years later and without signing a contract, the weaver has kept our recipe and has always refused to sell "our" fabric to other brands.


Returns and exchanges always free